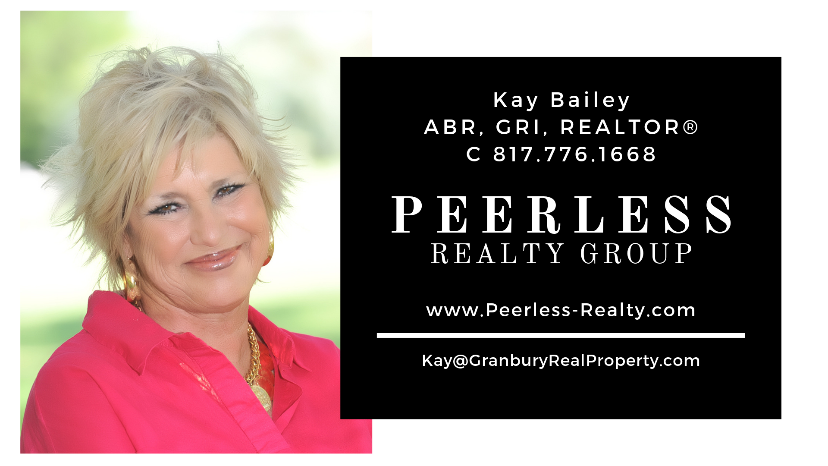 DeCordova Bend Estates & Country Club's Elite Agent, Kay Bailey



Over the last decade, Kay Bailey has been an influencer and leader of homes bought and sold within DeCordova Bend Estates (DCBE) and North Texas. Her wealth of knowledge in the real estate industry is not overlooked with nearly two decades of experience it is obvious she is a respected leader in our market. Just this past year she has closed over $3,650,000 in sales as of November 2018. In the past eleven years, Kay has listed and sold 191 homes since arriving in DeCordova Bend Estates.
Her career in real estate began on the beautiful shores of Florida's Panhandle, Destin/Fort Walton Beach. Along with Kay's Broker-mentor, she was afforded the opportunity to open a branch in Santa Rosa County in FL. In Florida, she was privileged enough to have served for three years on the Florida Association of REALTORS Board of Directors. Among the 3,300 associate members of the Emerald Coast Association, Kay served as Leadership Chair, Chaired Legislative and Professional Development. In 2006, ECAR awarded Kay Bailey, REALTOR of the Year, remarkably a monumental achievement in her career.

Returning to her home state of Texas, Kay entered into a new chapter in her real estate career. Selected to be in the Texas Realtor Leadership Program for 2009-2010, Kay hit another milestone. She was then selected again in a leadership role by the Granbury Association of REALTORS (GAR) to serve in a three year term as their President for 2012 (Incoming President, President and Past President). Ten years after her first REALTOR of the Year, she earned REALTOR of the Year for the Granbury Association of REALTORS in 2016. Kay currently serves on the Board of Directors for GAR. Kay Bailey's mission statement says it best: A full service REALTOR providing real estate solutions to my clients by marketing properties so they will sell and working with buyers who buy!

| | |
| --- | --- |
| The real estate industry is constantly changing and in today's generation it is changing so rapidly that consumers musts rely on a REALTOR. In order to stay ahead in this industry, an agent must rely on education and market experience. Speaking with Kay, she shared the following statement, "Education is my passion and staying on your toes with the market and current marketing trends is imperative to have a successful career and to do the best one can for their client." In relevance to her education, Kay Bailey has earned the following specialties: Graduate of Texas Realtors Leadership Program, Accredited Buyer Representative (ABR), Graduate of Realtor Institute (GRI), Texas Affordable Housing Specialist, Cartus Network Affinity Specialist, E-Pro Technology Certified, Senior Real Estate Specialist, Residential Contract Negotiations, Real Estate Consultant, Investment Cash Flow Analysis, 1031 Tax Deferred Exchanges. | |
Being a resident in DeCordova Bend Estates, Kay is locally recognized and provides a competitive advantage for homes for sale in the area. Serving her community offers both work and play benefits. The amenities at DeCordova Bend Estates offer an eighteen-hole golf course & the Durant Par 3, a 9 hole course, two practice putting greens & a chipping course along with a driving range for you Golfers. Here you may find Kay enjoying a round with friends for a casual game or participating in a charity tournament. DeCordova Bend being the largest waterfront community on Lake Granbury also offers amenities to include a marina, boat ramps, a fishing pier, fitness center that looks out over the Cove along with a Community Center, Playground, Tennis Court & the swimming pool. In the Clubhouse, is an awesome chef, dinner & drink specials, bingo, a sports bar with TVs everywhere you look, card rooms, special event rooms & the staff is incredible! Kays experience with DeCordova Bends' Homeowner Association (HOA) plays a key role when marketing homes for sale in this neighborhood. Anyone buying or selling should consider the importance of having a REALTOR that knows the many aspects of a community.
| | |
| --- | --- |
| | Access to this gated community, one must be a resident's guest or have a Realtor escort them into our community. REALTORs, such as Kay Bailey, would be happy to introduce you to DeCordova Bend. This community is located on the Fort Worth side of Granbury some 45 minutes from Downtown Fort Worth! If DeCordova Bend Estates is in your horizon give Kay Bailey a call at (817) 776-1668. |
Kay's words to live by: Smile, Use Kind Words, Try New Things, Do Your Best, Say Your Prayers, Please & Thank Yous, Always Tell the Truth, Laugh Out Loud, Be Happy, Work Hard, Love one Another & Always Keep your Promises!


If you are considering selling your home or are in the market to buy a home in Granbury, Texas, consider contacting DeCordova Bend Estates' local real estate agent, Kay Bailey with Peerless Realty Group.